monday.com User Group Hosted by Provident CRM
Wednesday, 14 December 2022 from 11:00 a.m. - 11:30 a.m. (GMT)
Request the Recording
Get the recording from our last monday.com User Group (MUG) session
GET THE RECORDING
Did you miss our December MUG (monday.com User Group)? Not to worry – you can request the recording to watch on-demand via the form to the right. 👉
This month's 30-minute session featured Ralph Uhlemann, Product Consultant at Provident CRM as host, with special guests John Malone, CEO of Provident CRM, Kandy Kim, Customer Success Manager at Provident CRM, and Anna Chermyanina, Channel Partner Associate from monday.com.
Our four expert panelists discussed the last few months' worth of new features and updates, including a section especially dedicated to working with formulas in monday.com – a heavily requested demonstration!
Tune in to see:
Formula use cases

New Jira cloud integration

Improvements to Salesforce integration

Board permission updates

Teams management permissions

Upgrades to Workforms, including Forms now available on mobile

Workload widget

Open discussion

Q&A

And more!
Simply fill out the form and you'll receive the recording straight to your email.
Request the Recording Here:
What are monday.com user groups?
monday.com user groups (MUGS) are here to help you connect with other monday.com users and get the most out of your experience using monday.com. With help from our team of experts, you'll learn to build your confidence in using the system, so that whether you're just getting started or you've been using monday.com for some time, you'll discover new tips and tricks and ways to improve your user experience.
Learn from our monday.com experts and get your questions answered in real-time
Connect with other users to share your insights and build a monday.com support system
Stay engaged with new monday.com features and updates so that you never miss an opportunity to learn more
What is monday.com?
monday.com is an online collaboration app that comes with all the features you need to organise, monitor, and ensure project completion.
monday.com is a great choice for startups and small businesses that want to plan, track, and collaborate on any project. The flexibility of the software lends itself to all manner of tasks, no matter how big or small – from creating website copy to a full website redesign.
Watch the latest sessions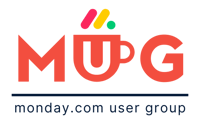 Project requests and approvals

Project templates pre-built with tasks, owners, automations, and more

Resource and time management

End-to-end project management, planning and dashboards

Dependencies and critical path

Real-time collaboration with stakeholders
Flexible and intuitive interface

Emails and activities

The power of automations

Lead and deals management

Account & contact management

Post-sales management
Meet our monday.com experts
Lean on the monday.com Experts
You don't have to do it alone. Our team of experts is waiting to help you.
Let us know your requirements so that we can help you find the best solution for your business. During a discovery call, you will chat with an expert from our team so that we can understand your needs and explore ideas, plans and bespoke solutions that can help grow your business.
Book a one-to-one call